A free gift tag for Easter to use with Carrot Chocolate Covered Strawberries or Easter baskets!
Some Bunny Love You Easter Gift
I love Easter! Even though the weather is unpredictable, one thing is for sure – Spring is coming! If the Easter Bunny is looking for an easy Easter gift idea, these Some Bunny Loves You Free Printable Gift Tags work great for a last minute personal touch! You can make the gift pictured, tie it to an Easter basket, or attach it to Oreo Bunny Butt Cookies!
If you want an Easter to remember, make these Oreo Dirt Cake Cups and decorate them with one of these 'carrots!' The kids will LOVE it!
What You'll Need:
Strawberries
Orange Chocolate Candy Melts
Crushed Oreo's
Medium Size Treat Bag
Ribbon
Single Hole Punch
Free Some Bunny Loves You Printable Gift Tag
How to 'Make Some Bunny Loves You' Gift
Line baking sheet with parchment paper and set aside. Print gift tags on card stock, cut out, and punch a hole in the top. Set aside.
Clean 6 strawberries and pat dry. Melt 1 1/2 cups orange candy melts. Dunk each strawberry in the melted orange chocolate, lightly shake off access chocolate, and set on parchment paper.
Once the chocolate has hardened on the strawberries, re-melt the leftover chocolate. Line the inside of a small cup with a Ziplock bag and fold the edges of the bag over the top of the cup. Pour melted chocolate in the bag. Cut a tiny corner off the bag and drizzle the chocolate over the strawberries like pictured.
Let harden.
Put 12 Oreos in a food processor until it looks like 'dirt.' Scoop evenly into 6 medium size treat bags.
Once the chocolate on the strawberries has hardened, place each 'carrot' into a bag. Tie the bag closed with a ribbon and one of the gift tags.
Print Free Gift Tags
The gift tags come in 6 designs. Just click and print!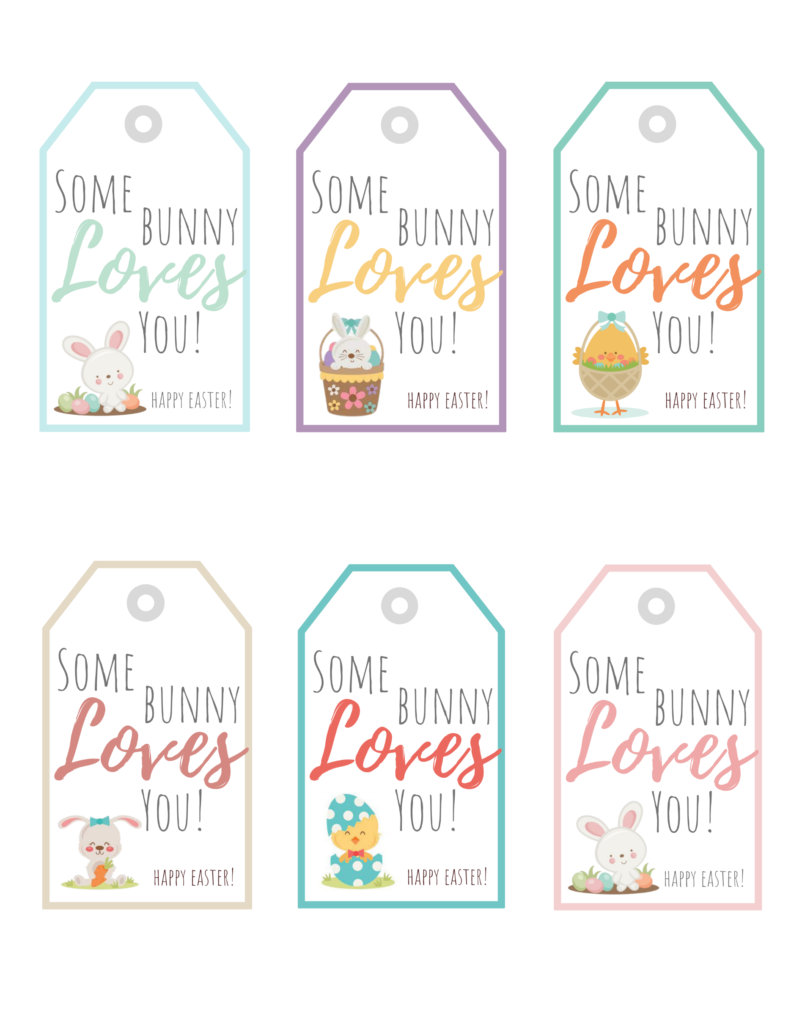 Download Here!
Tip:
Strawberries – The chocolate covered 'carrot' strawberries should be eaten the same day they are made. When they sit overnight, strawberry juice starts to leak.
More Free Easter Printables:
More Easter Treats: