A compilation of Easy Easter Desserts including fun, festive, no-bake, and traditional recipes for the whole family!
Cadbury Egg Cookie Cake
"A beautiful and delicious Cadbury Eggs Cookie Cake recipe for an easy Easter dessert that looks as good as it tastes!"
Easter Brownies
"Adding dessert as an after-dinner treat is a surefire way to keep your family at the dinner table a little bit longer."
Chocolate Thumbprint Cookies
"You are going to love these cookies for your Easter celebration!"
Carrot Cake Bars
"These carrot cake bars are so moist and delicious! They have a sprinkle of cinnamon and a cheesecake swirl in them. They make a great Easter dessert!"
Soft & Chewy M&M Easter Cookies
"Easter cookies for Spring that are thick, soft, and chewy and not too sweet. They are just right!"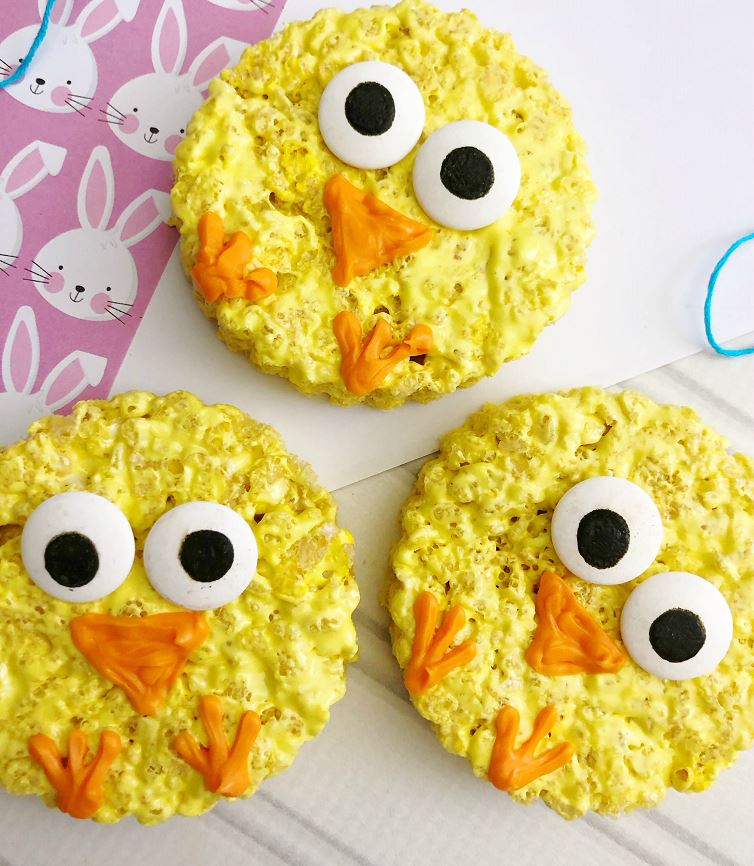 Rice Krispie Easter Chicks
"Make some cute little Easter chicks out of Rice Krispie Bars!! Perfect to make for spring or an Easter party."
Bunny Bait
"A popular sweet and salty Easter snack mix made with Peeps cereal! This mix comes together easily and is always a party favorite!"
Easter Brownie Parfait
"These Mini Eggs Easter Brownie Parfaits are the perfect easy-to-make Easter treat that everyone will love!"
Marshmallow Easter Eggs
"These candies are a big hit with marshmallow lovers!"
Robin's Egg No-Churn Ice Cream
"Get cracking and make this immediately!"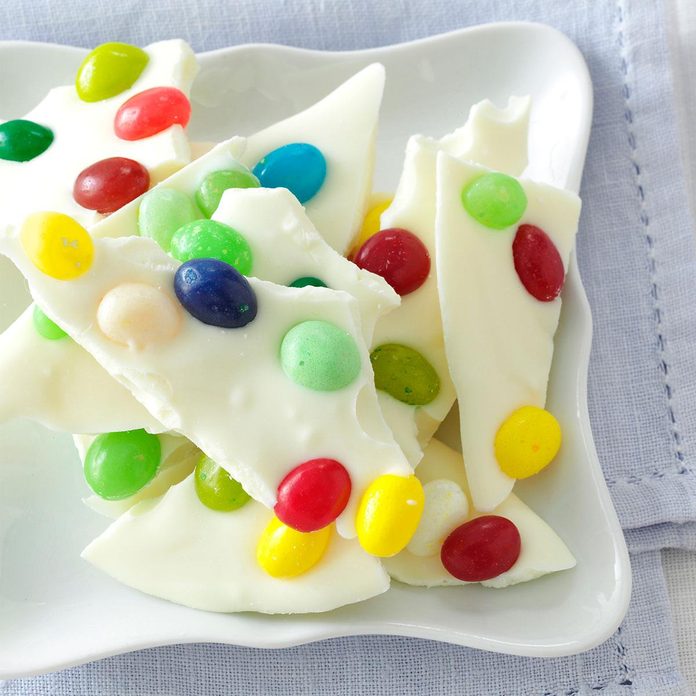 Jelly Bean Bark
"Homemade Easter candy really doesn't get easier than this. It's so simple—all you need are three ingredients, a microwave and a pan!"
Lemon Pudding Dessert
"The shortbread crust is the perfect base for the fluffy top layers."
Peeps House
"Is this an Easter craft or an Easter treat? It's both! These Peeps Houses are almost too cute to eat. Whether you eat them or not, they are fun to make!"
White Chocolate Easter Bark
"Make this super easy, delicious, and adorable White Chocolate Easter Bark recipe in the microwave in just 20 minutes for a fun no bake Easter treat."
Oreo Bunny Butt Cookies
"An easy homemade Easter treat that is fun for the whole family to make. These cute Bunny Butt Cookies make great Easter gifts, too!"
The Ultimate Cream Puff Cake Dessert
"This Cream Puff Cake is a light and fluffy dessert that just might become your new favorite recipe."
Peeps S'mores Dip
"Two-ingredient Easter Peeps s'mores dip is a super cute and easy Easter dessert idea."
Easter Nest Donuts
These adorable Easter Nest Donuts use a quick, homemade chocolate icing to make store-bought chocolate donuts look just like birds' nests!"
Peeps Sunflower Brownies
"These are so easy to make and super cute!"
Easter Peeps Pops
"Love when you can whip up a sweet treat quickly and easily, with very few ingredients, and it is not only simple, but it is also super cute. These Easter Peeps Pops totally fit that bill! Adorable!"
Lemon Sugar Cookies
"These are a crowd favorite that you can make anytime of the year. These Lemon Sugar Cookies are thick and chewy and easy to freeze. Easy to make in one bowl with fresh lemon and everyday ingredients."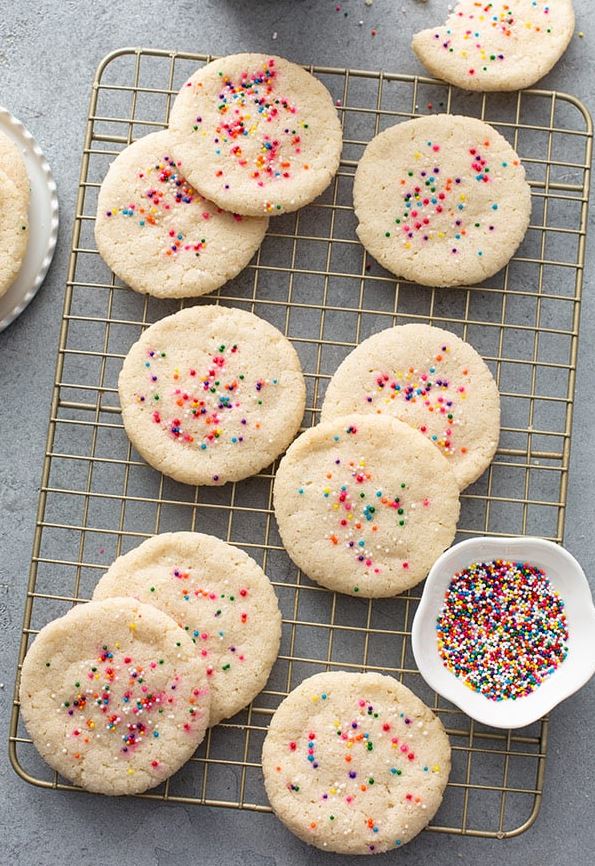 Easy Sugar Cookies
"Quick and easy sugar cookies made with only 3 pantry ingredients and no egg! So simple and foolproof, you can whip up this sugar cookie recipe anytime. Sweet, buttery, and delicious!"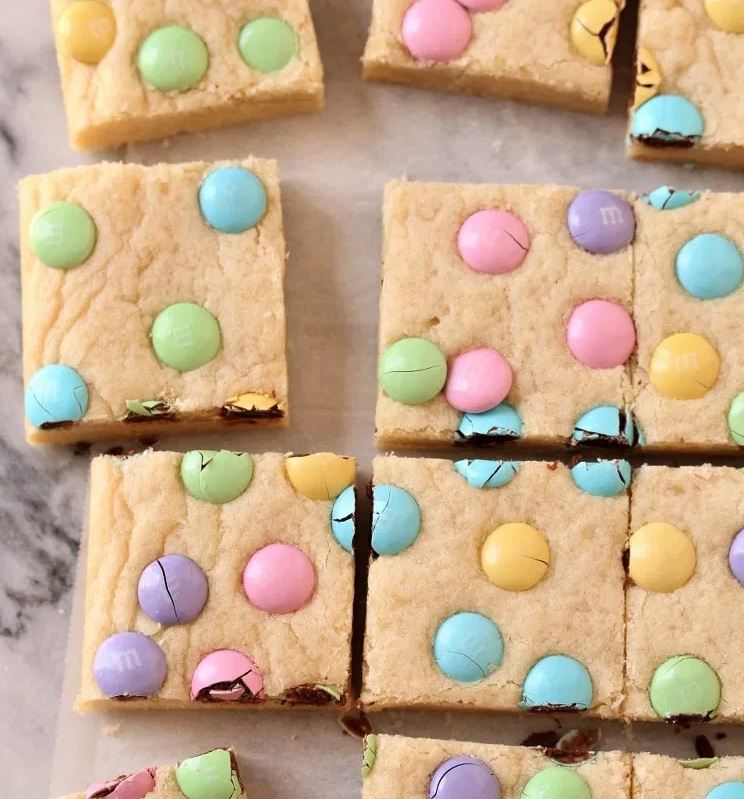 M&M Sugar Cookie Bars
"Who has leftover Easter candy?"
4-Ingredient Carrot Patch Easter Dirt Cups
"These 4-ingredient Easter dirt cups are seriously adorable and super easy to make! Orange chocolate covered "carrot" strawberries are nestled in snack size chocolate pudding cups and surrounded by crushed Oreo dirt for an Easter dessert that kids will love!"
No Bake Chocolate Bird's Nest Cookies
"An easy to make 4-ingredient Easter treat! So easy you don't even need to measure the ingredients!"
No Bake Easter Cheesecakes
"These Mini Egg Cheesecakes are the perfect dessert to serve after Easter dinner! Made in little mason jars, they are the ideal size and adorable!"
French Strawberry Cake
"This cake bakes up with a custardy middle and crackly, sugary top."
Mini-Pineapple Upside Down Cakes
"These mini pineapple upside down cakes are so pretty and so easy to make!"
Sugar Cookie Fruit Pizza's
"These Sugar Cookie Fruit Pizzas have got to be one of the best kinds of cookies, ever! They are three layers of utter deliciousness and everyone will be craving more!"
Easy Coconut Cream Pie
"A few simple ingredients and a few minutes are all you need to create this fabulous Easy Coconut Cream Pie!"
Easy Funfetti Cookies
"These easy funfetti cookies are made from a cake mix and super simple to make but they taste amazing. Bright and colorful, these whoopie pies are sandwiched with buttercream frosting for a fun dessert!"
Cadbury Mini Cheesecakes
"Made with a graham cracker crust, creamy cheesecake filling then topped with chocolate ganache, toasted coconut, and Cadbury Mini Eggs. This mini cheesecake recipe is easy to make and perfect for an Easter party!"
Easy Hummingbird Cake
"Made in a cake pan with bananas, pineapple, coconut, and topped with luscious cream cheese frosting. It's incredibly moist, flavorful, and perfect for any occasion."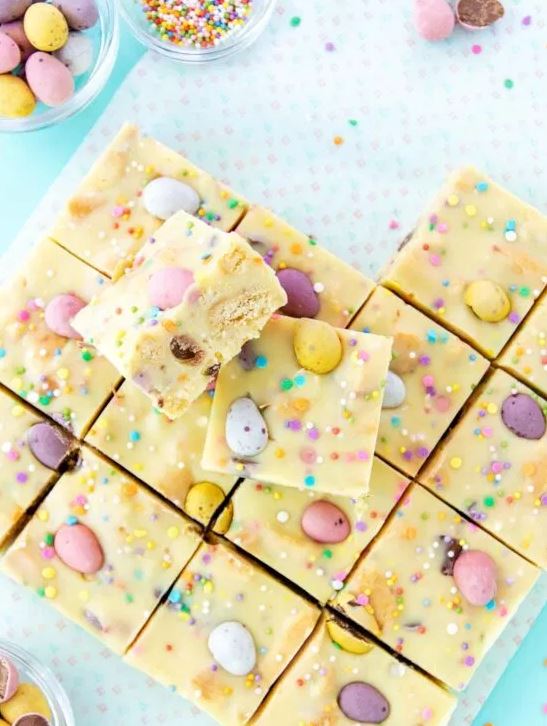 Super Easy Mini-Egg Fudge
"With a smooth, creamy white chocolate and condensed milk fudge base, pastel mini eggs, crunchy cookie pieces, and a speckle of rainbow sprinkles, this mini egg fudge slice is the perfect easy Easter recipe!"
Easter Egg Cookie Dough Truffles
"These Easter Egg Cookie Dough Truffles are beautiful on the outside and irresistibly yummy on the inside!"
Cinnamon Sugar Easter Bunny
"This little Easter treat is so easy to make and turns out so cute!"
Cadbury Mini Eggs Cheesecake Dip
"A creamy cheesecake dip made with crushed Cadbury Mini Eggs candies. This dessert dip is perfect for a potluck or Easter brunch."
Mason Jar Lemon Meringue Pie
"These cute little lemon meringue pies are so quick and easy to make, and perfect for any special occasion."
Toasted Coconut Bunny Tails
"These Toasted Coconut Bunny Tails are super fun, easy to make and delicious! You may also know them as "snowballs" – cookies that you may make for Christmas. Well, now they are bunny tails with cute pastel sprinkles and they are perfect for Easter!"
Chocolate Cadbury Egg Cookies
"Thick and chewy Chocolate Cadbury Egg Cookies make the perfect fun and easy Easter treat."
Classic Ooey Gooey Butter Cake
"Since the 50's Mom's and Grandma's have been making ooey-gooey cakes for all to enjoy!"
Creamy Strawberry Jello
"This Creamy Strawberry Jello has a smooth and creamy texture, so delicious, and super easy using only a few pantry items. Great for a small crowd and perfect for a Sunday brunch!"
No Bake Banana Pudding Dream Dessert
"This easy dessert lasagna recipe is made with banana pudding. It's layered with no bake cheesecake and a Golden Oreo Crust!"
Baked Carrot Cake Donuts
"Need an idea for a sweet addition to your Easter brunch? These Carrot Cake Donuts with Cream Cheese Glaze are an easy alternative to classic carrot cake and a great addition to your brunch spread."
Berry Dessert Lasagna
"Despite the fanciful name, this chilled trifle makes for an easy dessert with bright, crowd-pleasing flavors. "
Cheesecake Pops
"Easy Easter Cheesecake Pops, ready in minutes!"
No Bake Classic Woolworth Cheesecake
"No Bake Woolworth Cheesecake is a classic, light and lemony dessert and will be the perfect addition to your Easter or Mother's Day menu!"
Easter Rice Krispie Treats with Bunny Peeps
These Easter Rice Krispie Treats are a fun holiday themed snack the kids will love to eat and share with their friends! Bunny Peeps are a fun addition to the classic krispie treat recipe.
Easy No Bake Chocolate Bunny Treats
"An easy Easter treat that is fun to make with your kids!"
Easy Lemon Bars
"This Easy Lemon Bar Recipe has the perfect combination of tart and sweet. Made with a vanilla crust and a smooth lemon filling, these are easily the best lemon bars ever!"
More Easter Recipes:
Free Printables for Easter: