A rich and decadent no bake Valentine's Day treat that is quick and easy to make!
When I was a little girl I spent my summers at a cabin my father once had. A family friend, an older gentleman by the name of Frank, had a forest full of raspberry bushes. He was single, never married and no children. He treated those bushes like his family. He weeded, watered, mulched, trimmed, fertilized, and pruned them like he was entering his berries in a contest for the best raspberries in the country.
My sister and I loved to go see him because he would let us pick his treasured berries!
I am a country loving girl at heart, and I would love nothing more than to have my own raspberry bushes on many acres of land with only the wildlife as my neighbors!
Some day…
He would pick buckets full of his juicy red raspberries and bring them to the cabin for us to enjoy. We liked them best just as they were or sometimes with a scoop of vanilla ice cream as a special treat.
When I think of memories like these, I wonder at what point in my life I started thinking I needed more than what I had. Like that small bowl of ice cream with raspberries. It was a special treat we didn't have every day. But in my mind, when something tastes so good I want it every day! Why can't I just slowly enjoy it for what it is and not think about having more while I am eating it?!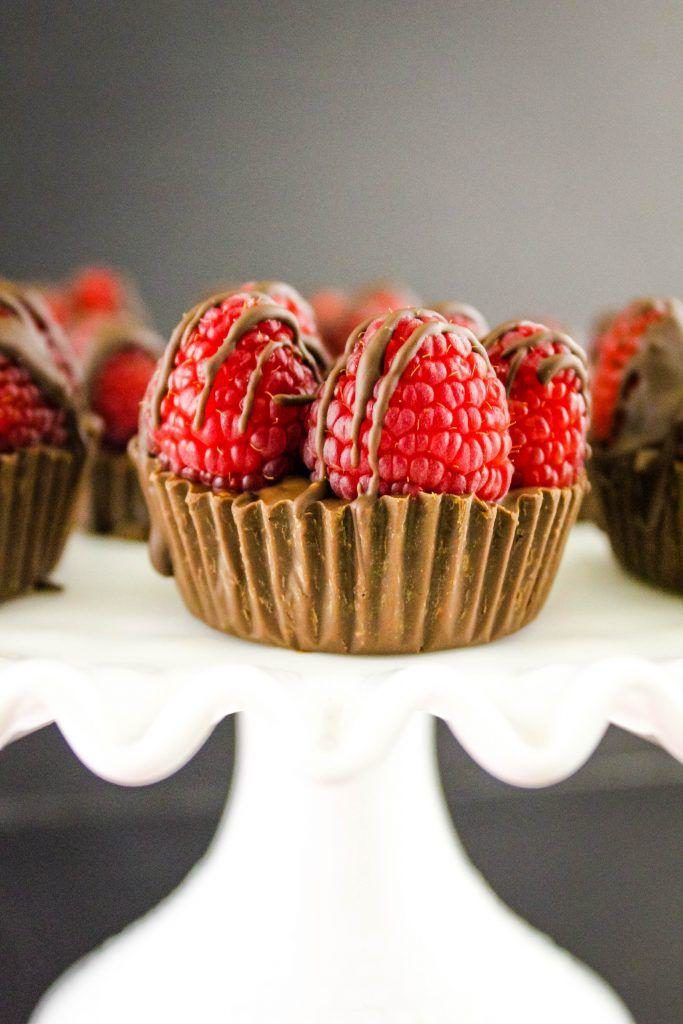 This is a problem, people. Because I make things that look like this.
But, wait! I have good news.
These aren't as terrible for you as they may seem AND they are vegan. I mean, we have that going for us, right?!
These Vegan Valentine Crunch Cups with Raspberries are a variation of the 5-Minute Vegan Chocolate Crunch Cups. You can dress them up for Christmas too, like these Christmas Chocolate Crunch Cups.
They have a hint of peanut butter in them, too. Do you like peanut butter as much as I do?! Well then, you must check out these Vegan Peanut Butter Banana Brownies, or these Vegan Chocolate Peanut Butter Pretzel Bites, and one of my favorites these No Bake Vegan Peanut Butter Balls.

Vegan Valentine Crunch Cups with Raspberries
Vegan Valentine Crunch Cups with Raspberries, a rich and decadent no bake Valentine's Day treat that is quick and easy to make! 
Ingredients
1 1/2 cups Vegan Chocolate Chips
2 tsp Coconut Oil
3/4 cup Rice Krispies
Fresh Raspberries
Additional Vegan Chocolate, Melted
Instructions
Line a muffin pan with non-stick cupcake liners.
Stir the chocolate chips and coconut oil together on low heat until melted.
Remove from heat and stir in Rice Krispies.
Spoon mixture evenly into liners.
Place fresh raspberries on top of crunch cups while still wet. Drizzle with additional melted vegan chocolate. Put in refrigerator until firm.
OPTIONAL: Melt in 1/3 cup peanut butter with melted chocolate and coconut oil. Add additional 1/4 cup Rice Krispies.